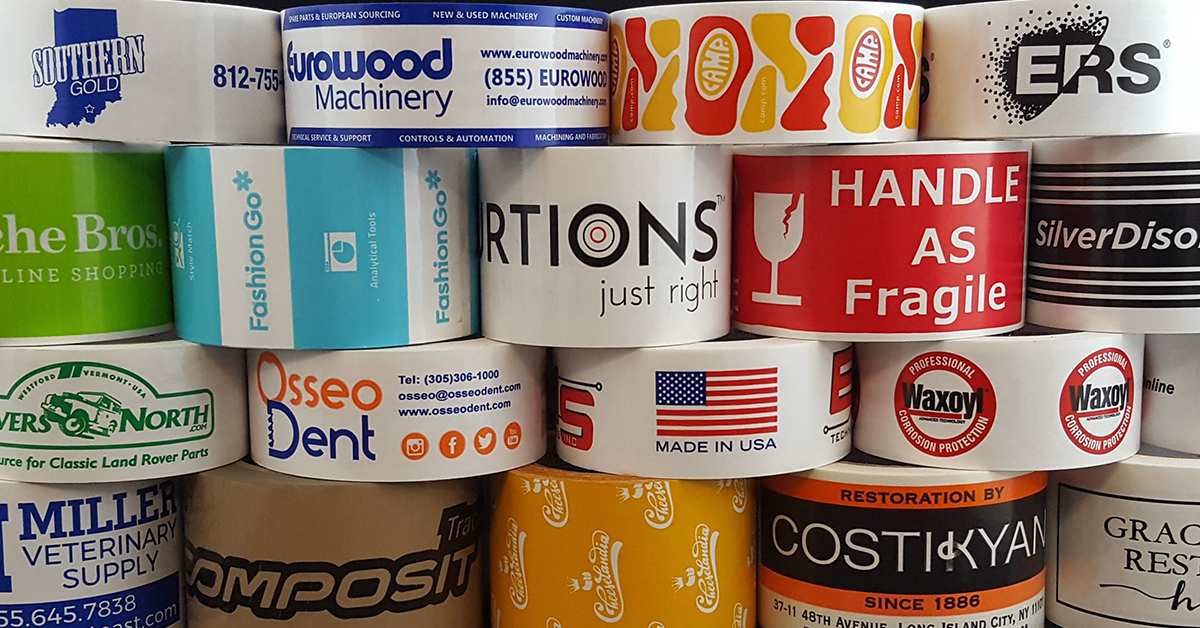 There's no doubt about it: COVID-19 has changed the way we do business. From remote workforces to shifts in operational priorities, no company will remain unchanged from this altering experience. And as most companies slowly push forward in the face of adversity, the current climate has many people thinking about efficiencies and strategies to keep moving in the right direction. One such strategy might include an inspection of company purchasing habits. Do your goods typically come from domestic or international sources? Could you be putting them to work faster? If you use custom packing tapes, where does it come from?
Consider your company's packing tape for a moment. Before placing an order online, check its shipping origin to determine whether it qualifies as a domestic or international shipment. This information can lend helpful insights into how long your order could take to arrive at your company's destination.
While many worldwide shipments experience smooth sailing, others can become derailed due to circumstances outside of your control. And with so many swirling global uncertainties amid the COVID-19 pandemic, shipments and deliveries may be increasingly unpredictable. You can eliminate these uncertain issues by ordering domestically from Phoenix Tape.
Possible causes of international shipping delays
A few factors that can delay international shipments of custom packing tape and other goods include:
Freight capacity – Depending on the volume of international packages at the time of shipment, delays could occur when ships, planes, and rail cars have simply met their capacity, causing the container to wait for the next available transit vessel. The pandemic also brings with fewer long-haul international flights and travel restrictions to (and from) the U.S., causing more potential for delays.
Customs – To prevent delivery delays, international shippers must complete the appropriate documents and follow protocol to a T. Every step in the chain must be perfectly harmonized to ensure a smooth delivery. If anything is amiss, officials have the authority to reroute the package with your custom packing tape to the original sender, adding weeks (or months) to your scheduled delivery date. Consider other possible delay-causing factors unique to the effects of COVID-19, such as U.S. Customs and Border Protection on-site staffing shortages.
Factory production – Another possible cause for international shipping delays can happen even before your custom packing tape order is produced because some overseas factory production remains hit or miss. While a few international facilities may remain closed, others are slowly beginning to reopen. However, shutdown-induced order backlogs and modified protocols to allow for social distancing can make production times longer than usual.
Benefits of a domestic custom packing tape supplier
Aside from the patriotic pride that many people feel when purchasing goods made in the USA, choosing to order from domestic companies may also come with several practical benefits.
Following are some of the advantages of ordering custom packing tape from a domestic supplier like us:
Receive shipments quickly– Rather than waiting what could be months for international delivery, custom packing tapes from a domestic supplier with two strategically located facilities on the east and west coasts ensures your order will arrive quicker. Whether your company is closer to our shipping hub in New Jersey or Nevada, we provide fast and convenient shipping services anywhere in the country.
Production facilities are open and operating on a regular basis – Our state-of-the-art custom packing tape production facility is fully operational, so you can be assured that your order will be completed in a timely manner.
Support businesses right here at home – With the pandemic's economic impact taking a toll on Americans and businesses across the country, choosing to place a domestic order for custom packing tape can be one way to show your support if it aligns with your companies values.
While the road ahead isn't clear, our sales, production, and management teams are here to help your company adapt and thrive. We believe that every order of custom packing tape tells a brand's story – and we'd be honored to help you tell yours.
To learn more about custom packing tapes, visit our website, or contact our sales and design professionals today.