Polypropylene Custom Printed Tape
Polypropylene is one of the most popular types of custom packing tape because it is economical and performs well in most general-purpose applications. It looks great, too! Polypropylene yields an excellent quality print, including on longer print runs, making it one of the best all-around custom shipping tape options for many applications. Easily distinguishable by the crackling noise it makes when you pull it from the roll, polypropylene custom tape features a glossy finish with hot melt adhesive that can hold up to packages ranging up to 50+ lbs.
Top 3 uses for polypropylene custom tape
Consider polypropylene when you need an excellent all-purpose custom packing tape for use on cardboard and corrugate packages. 
Branding – Your logo and design never looked so good! Polypropylene yields a high-quality print, making it a perfect choice for building brand awareness and customer loyalty.


Sealing – From a practical standpoint, polypropylene is a solid contender for many sealing applications, offering varying thicknesses depending on your package weight.


Wrapping – Polypropylene is so versatile that it can also be your go-to custom shipping tape for wrapping applications that help your brand stand out from the rest.
If you're considering polypropylene custom printed tape for your packaging needs, consider the following features that make it unique:  
Glossy finish
Hot melt adhesive
Prints up to 3 inks
It makes a distinguishable crackling noise when unspooled
Range of thicknesses to accommodate varying package weights
Maintains excellent print quality on long runs
Designed exclusively for cardboard and corrugate
Capable of sealing packages up to 55 lbs.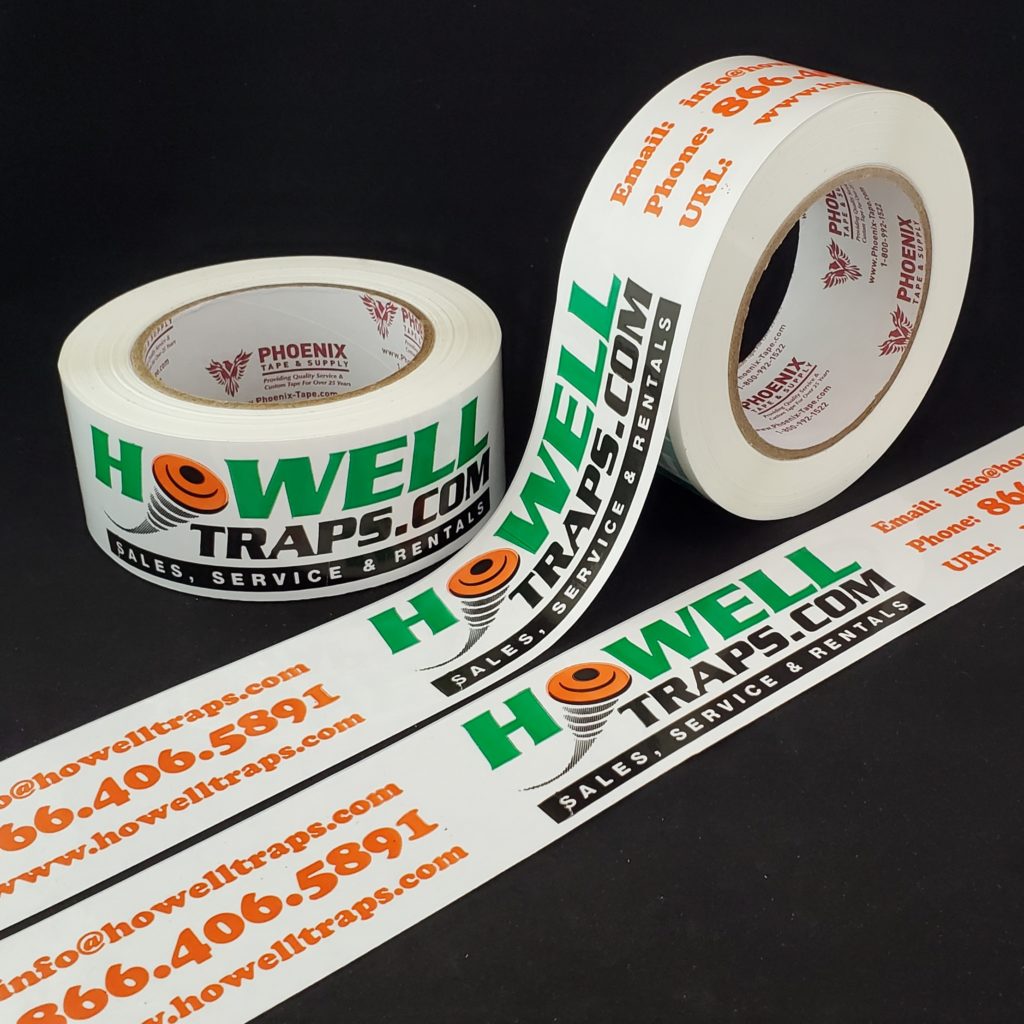 Polypropylene custom packing tape is available in three grades, or thicknesses. Choose the best grade for your package weights, bearing in mind that the thicker the tape, the stronger the adhesive.
Regular 1.9 mil: Even though 1.9 is the lowest grade we carry, it's considered the middle range in our industry. Lower grades could compromise the ability to achieve a crisp and clean print. Go with this polypropylene grade when sealing boxes up to 30 lbs.


Heavy-duty 2.5 mil: This heavy-duty grade provides more adhesive than 1.9, giving you more sealing power for packages up to 50 lbs.


Extra heavy-duty 2.9 mil: The strongest grade of polypropylene tape grade features the concentration of adhesive as 2.5 mil heavy-duty options but provides an even thicker base for added strength and package security.
We provide polypropylene custom printed tape in three roll lengths to suit your packaging needs. Determining the best roll length for you depends on the frequency of use, budget, and supply. Longer rolls are ideal for frequent use and provide volume pricing over shorter rolls. They also help shield you from supply issues so that you won't run out of custom shipping tape.
55 yards (24 or 36 rolls per case)
110 yards (24 or 36 rolls per case)
1,000 yards (4 or 6 rolls per case)
Print up to three ink colors on polypropylene custom packing tape, whether you choose a combination of our in-stock inks or go with custom PMS colors.
Let our expert sales and design teams help you customize your custom printed tape. 
Benefits of polypropylene custom packaging tape
Poly custom shipping tape offers many benefits for companies looking to elevate their packaging because it:
Polypropylene tape often costs less than other custom packing tapes, helping to keep your shipping costs down. In addition, polypropylene custom tape provides a cost-effective alternative to expensive printed boxes, allowing you to reap all the branding benefits for a fraction of the cost. 
Polypropylene custom shipping tape adheres nicely to corrugated cardboard boxes, providing the peace of mind that it will stay put throughout your package's shipping journey. To get the most benefit from polypropylene's adhesion properties, be sure to select the right grade for your package weight.
Yields a high-quality print
With excellent printability, polypropylene allows you to achieve a clean and crisp print every time. It's an especially wise choice for longer production runs because the printing press uses a photopolymer plate material that provides the rigidity required for a consistently detailed print, from the first roll to the last.
With customization options ranging from thickness and roll length to multiple inks and tape colors, there are endless ways to make polypropylene custom packing tape your own. Whether you're printing a one-color, two-color, or three-color design, polypropylene will make it pop.
Is polypropylene custom tape right for you?
Polypropylene is the ideal cost-effective custom printed tape for general use, providing a versatile solution that yields a crisp print with plenty of strength for most packaging applications. However, consider paper custom tape when you require anti-tampering and anti-pilfering properties or an eco-friendly solution. The reinforced fiberglass threads add durability, while the paper and adhesive can be recycled safely along with your cardboard boxes.
If you're working with heavy and bulky packages, consider PVC custom shipping tape instead of polypropylene. PVC is thicker and adheres firmly to more surfaces. It's also quiet when pulled from the role, making it more user-friendly.
For over 35 years, we've specialized in offering high-quality and affordable custom printed packing tape to companies of all sizes. We work only with trusted industry-leading material suppliers to ensure you receive the best raw materials available. We combine experienced sales, art, production, and printing teams with advanced printing presses to help us provide exceptional custom tape worthy of your brand and budget.