Polyvinyl chloride (PVC) is a versatile, flexible, and durable custom tape ideal for heavy-duty packing applications, such as large parts, bulky materials, and heavy supplies. We've coined PVC 'the quiet tape' because it makes virtually no noise when it's pulled from the roll, making it a wise choice for quiet environments. Many companies love PVC tape because of its user-friendliness and ease of application. PVC stands out from many other custom shipping tapes because it is a premium packaging solution strong enough to hold up to your most robust applications.
If you're considering PVC custom packing tape for your packaging application, you'll find that it performs incredibly well with packages that:
Are bulky – Are you shipping bulky supplies or parts? PVC tape provides extra strong adhesion that can help keep your package contents sealed.
Are heavyweight – You can feel confident choosing PVC custom shipping tape for any heavy packaging application because it has the power to seal boxes exceeding 40 lbs.
Go beyond corrugate – While PVC adheres to cardboard boxes, it really shines when put to the test on other packaging materials, such as recycled plastics and other substrates.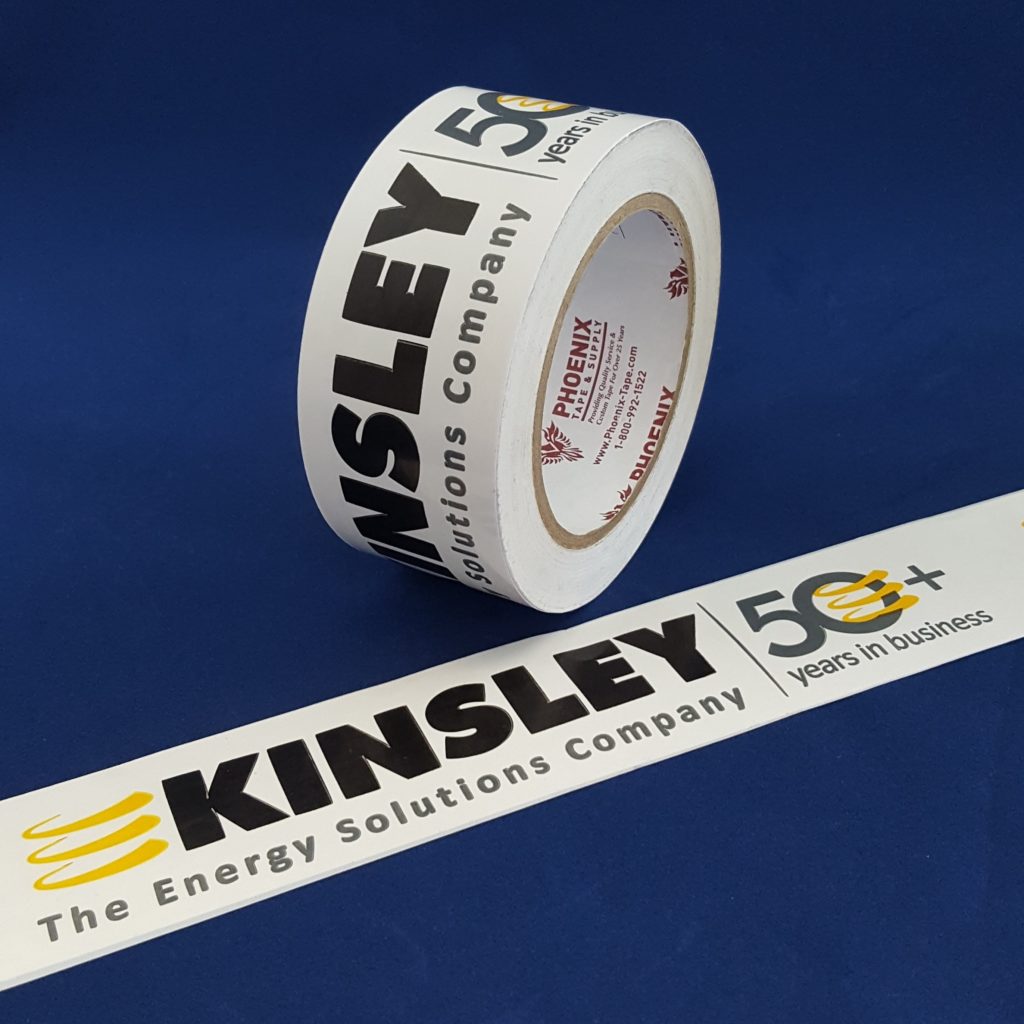 Check out the features of PVC custom packing tape to determine whether it's the right fit for your packaging application:    
Flat finish
Natural rubber adhesive
Prints up to 3 inks
Excellent printability on lower volume runs
Adheres strongly to a variety of surfaces
Capable of sealing packages over 40 lbs.
PVC custom packing tape is available in two grades, or thicknesses. The best grade for you will depend on the weight of your packages. Use our guide below to help you select the ideal thickness for your application.
Regular 2.2 mil: The 2.2 mil grade is the entry point for this strong custom printed tape, allowing you to securely seal packages up to 40 lbs.
Heavy-duty 23.2 mil: This heavy-duty grade is even stronger than 2.2 mil, giving you the option to seal even heavier packages that exceed 40 lbs.
We offer PVC custom shipping tape in two roll lengths to accommodate your packaging preferences. When determining the right length for you, consider the frequency of use, budget, and supply availability. Go for longer rolls if you frequently use the tape to take advantage of volume discounts and help avoid stock delays.
55 yards (24 or 36 rolls per case)
110 yards (24 or 36 rolls per case)
PVC custom shipping tape comes in several colors, depending on the grade you choose.
Whether your custom printed tape design is one, two, or three colors, PVC allows you to choose from any of our in-stock colors or use our custom PMS color matching capabilities to match your brand standards.
Are you ready to put your custom packing tape order into motion? Reach out to our expert team for design advice that will help your PVC tape stand out from the crowd.
Benefits of PVC custom packing tape
PVC is a specialty custom packing tape with many advantages for companies looking for a robust solution for heavy-duty packaging applications.  PVC offers:
Unlike the crackling noise from polypropylene tape, PVC custom tape has a smooth unwind. Earning the nickname as 'the quiet tape," PVC releases from the roll quietly, giving it an advantage for companies that need to keep the volume low.
PVC custom tape is a durable solution that yields superior adhesion to various packaging substrates, from corrugate to plastics, Styrofoam and beyond. So, if you're looking for a heavy-duty custom shipping tape that will stick to your heavy or bulky packages, choose PVC.
PVC custom shipping tape is also easy to manage, making it versatile and user-friendly. It's simple to dispense from the roll, even allowing you to tear the strips by hand if needed. PVC has another usability advantage: it is slow to grab to surfaces, giving you time to adjust the tape for a perfect fit.  Once it does grab the surface, the adhesive forms an incredibly strong bond.
There are many ways to customize PVC custom packing tape, from varying grades, lengths, tape colors, and ink colors, allowing you to make this heavy-duty packaging solution your own. Reference our helpful design considerations to ensure your custom tape truly shines.
PVC custom shipping tape is a packaging staple for many companies. Contact us to find out even more reasons why.
PVC custom shipping tape is a packaging staple for many companies. Contact us to find out even more reasons why.
Is PVC custom printed tape right for you?
PVC is an excellent choice for many heavy-duty applications, especially those that require you to package heavy or bulky contents. It's quiet and easy to manage. When you apply pressure, PVC offers exceptional adhesion to surfaces beyond corrugate, giving you even more sealing power. However, PVC tape is not suited for longer print runs because it requires rubber plates to print instead of a rigid polymer that lends a crisper print from start to finish. For longer runs, consider polypropylene or paper custom printed tape.
With over 35 years of experience, we are your go-to resource for high-quality and affordable custom packing tape. We're dedicated to supplying the highest quality tapes and delivering exceptional service. Our industry professionals are among the top performers in the industry, giving you access to valuable in-house sales, art, production, and printing experts who can help you reach your branding goals – on budget.